A quick meeting in London, a trade fair in Hanover, Paris at the weekend — all of this is easily achieved from Rheinland-Pfalz. Most European capitals are within two hours by air. A densely packed network of transport routes ensures that people and products can quickly get to where the action is happening. The efficient transport infrastructure connects the economic regions of Rhine-Main, Rhine-Neckar, and Rhine-Ruhr. It means that France, Luxembourg, and Belgium are neighbors that can be visited quickly and easily.
Frankfurt's main airport, one of the world's most significant air traffic hubs, is just minutes by car or train from Rheinland-Pfalz's state capital, Mainz. International airlines also run night-time flights from Frankfurt-Hahn airport. This 24-hour service makes the airport attractive for business, freight, and tourism.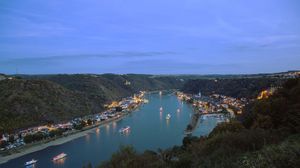 For those less reliant on speedy transport or those transporting heavy loads, the state also has access to Europe's busiest waterway, one of the most important waterways in the world: the Rhine. With its tributaries, the Rhine is responsible for around 70 percent of the entire freight traffic on Germany's waters. A total of 605 kilometers of waterways and 14 efficient inland ports are available on the rivers Rhine, Moselle, Saar, and Lahn for inland navigation.
The rail network, too, provides exemplary local transport, along with reliable ICE and IC routes with excellent connections to the international high-speed rail network, allowing people and products to get where they need to be — fast. Last but not least, Rheinland-Pfalz has an excellent road network. And since all of these modes of transport are highly integrated, all journeys here are short and fast.