Strong from the Start: A Tradition of Education and Training
Education and training have been among the outstanding achievements of the people of this region since at least the development of printing with movable letters by Johannes Gutenberg around 600 years ago. This tradition brings with it an obligation. The best educational opportunities for children, right from the start — this has therefore become the motto in Rheinland-Pfalz.
And we start early. Rheinland-Pfalz was the first federal state in Germany to introduce free attendance at a kindergarten before enrollment in elementary school. The number of kindergarten places is also excellent. Similarly, the state is considered exemplary in terms of schools: All across the state, children and families benefit from access to 623 all-day schools.
Educational provision in the state promotes openness and exchange — and corresponds to the people of the region's lifestyles. English and French are already taught in many elementary schools. International schools, as well as many English-speaking masters programs at further-education institutions, offer first-rate opportunities for cosmopolitan individuals.
The dual education system in Germany is world-renowned, and rightly so. It is practiced and constantly developed in Rheinland-Pfalz. Training in a practical company setting and the close connection to the needs of businesses ensure not only that the economy has access to highly qualified young talent, but also that graduates have access to excellent career opportunities. In trades, for example, many achieve a promotion to master craftsman after a successful apprenticeship. In this respect, the workshops of Rheinland-Pfalz are true mastermakers!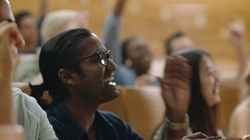 First-rate employment-market opportunities are also available to those students able to choose between the more practically oriented technical colleges and the research-oriented universities. From medicine to science, and technically oriented engineering subjects to linguistic or humanities subjects, everything is possible in Rheinland-Pfalz. Applied research institutes, a broad network of technology and start-up centers, and targeted support programs encourage fast knowledge transfer into new products and processes and provide an excellent start-up environment. The people of Rheinland-Pfalz are enterprising in every respect.
RHEINLAND-PFALZ: ONE OF EUROPE'S LEADING CENTERS OF INNOVATION
In collaboration with companies, universities and research institutes we have developed our
State Innovation Strategy in order to promote the areas with the highest potential in our region.
Why is Rheinland-Pfalz such a remarkable center of innovation?
Some of the essential criteria are:
Concentration on the so-called high potential areas
They include particularly promising fields
Consistency in promoting research and development in priority infrastructure projects
Support of ambitious research and technology projects
Support to innovative start-ups
Networking and cooperation via our networks and clusters and the innovation and technology centers in Koblenz, Ludwigshafen, Mainz and Trier
We identified six areas we believe have particularly high potential:
Life Sciences, Health Economy
Energy and Environmental Technologies, Resource Efficiency
Automobile and Commercial Vehicle Industry
Information and Communication, Software Systems
Materials and Surfaces
Microsystems, Sensor Technologies, Automation
NETWORKING AND COOPERATION
From universities, institutes and business companies have emerged a variety of associations in the different high potential areas. These networks and clusters form the basis for a future-oriented development.
What is meant by technology-oriented networks and clusters?
Regional concentration of interconnected companies and institutions within a particular economic sector. Besides companies of networked sectors, the cluster may involve further organizational units relevant for the competition (for example research institutions, universities, chambers and authorities).